Recently, the "2019 China Internet Literature Rankings" sponsored by the Chinese Writers Association was announced.
There are 19 works (projects) selected this time, of which 9 are the starting point. I wonder if everyone is familiar with these works?
The nineteen works (projects) awarded this time are divided into three projects, namely, the ranking of Chinese Internet Novels, the ranking of Chinese Internet Literature IP influence, and the ranking of Chinese Internet Literature Overseas Communication. The winning works are as follows:
1. Ranking of Chinese Internet Novels (10 titles):
"Mighty", the author: He often
"World Network Security: tied black dragon", author: pipe Pingchao
"Off the river is not cold", author: drinkers
"Chaoyang police matter", author: Zhuo animal husbandry idle
"I'm on Mars", Author: Tin Shui said Fu
"Heaven Library", author: End of the World swept
"Zaizhi world", Author: cuslaa
"The book Ling Ji", author: good water
"Biography national hero" by: aging
"Star in the fall for sand", author: north-dipping
2. The IP impact rankings of Chinese online literature (6 titles):
"Qingyu years", Author: tricky
"Zhu Xian", author: Xiao Ding
"Special episode of full-time master pinnacle of glory" by: Blue butterfly
"Douro mainland", author: Tang three little
"Do you know? Do you know? Should be Lvfeihongshou "Author: concern for the chaos
"Possession of the sea flower", Author: South Pine Uncle
3. List of Overseas Dissemination of Chinese Online Literature (3 titles):
"Heaven Library", author: End of the World swept
"Shura Valkyrie", the author: good bee
Starting Point International Webnovel (Project)
---
This time the award-winning works cover multiple websites such as Starting Point, Jinjiang, Zongheng, 17k, Ali Literature, etc. However, as the big brother in the online literature industry, Starting Point still accounts for nearly half of the quota, with a total of nine.
Because I usually read novels mainly at the starting point, so I am more familiar with it. Here is a brief talk for everyone.
The main selected novels at the starting point were seven, but because one novel occupies two places, the division was counted again. Coupled with its own overseas platform winning, so the total is nine places.
Among them, there are three main ones selected into the online novel rankings, namely "I am on Mars", "Chaoyang Police", and "Library of Heaven".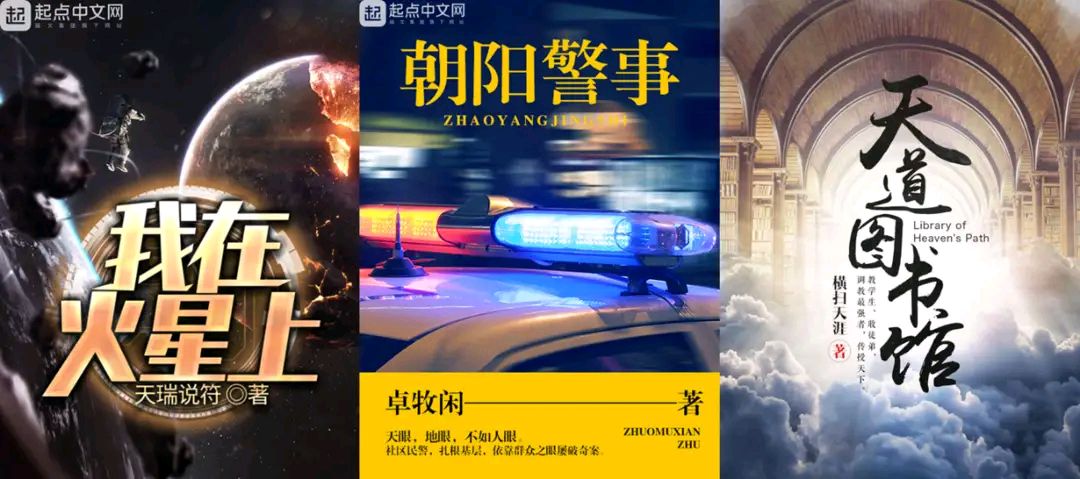 The original name of "I'm on Mars" was "Dead on Mars", but the official name seems to have been deliberately changed for publicity. This is a very hard-core science fiction novel that has also won the Galaxy Award. The original novel is not long, only more than six hundred thousand words. The subscription score at the starting point is not very conspicuous. It is just a boutique, but the potential for adaptation in all aspects is still great.
"Chaoyang Police" is a work by Zhuo Muxian, a great author. It is a model work combining realistic themes and online literature. The story focuses on the police in life and brings us a different feeling.
It's a pity that although the government now advocates writing realistic works, there are always no specific rules. Therefore, such novels are easy to be blocked, making it difficult to produce fine works. Hope it will be better in the future.
"Library of Heaven" is a masterpiece that sweeps across the world, and it is also the only one of the award-winning works in this issue that occupies two places.
In addition to being selected into the online literature rankings, it also won the overseas communication rankings. The platinum god who was promoted to the starting point of Sweeping Tianya benefited from the influence of this novel overseas.
It is a pity that after being enshrined, the development was not smooth, and the two novels failed to sell well, and the popularity declined significantly.
In addition to the above three books that were selected in the online literature rankings, the works selected from the starting point are more concentrated in the IP adaptation section. There are six works in total, four of which are the starting point. They are "Celebrating More Than Years", "Zhuxian", "Full-time Master Fanwai: Peak Glory", and "Douro Continent".

However, many readers may not be satisfied with the adaptation of these four novels.
The first season of "Celebrating Yu Nian" was very successful, but there is no guarantee of the subsequent results. Although "Zhu Xian" and "Full-time Master" have made money, they have received more criticisms. "Douluo Dalu" is the king of 3D animation, but the third master of the Tang family has a bit of mixed reputation.
It can be said that these works selected from the starting point are all unique, and they are indeed eligible for winning.
However, there are so many online novels, and only 19 were selected. I think many people still have great doubts about this quota. After all, just speaking of 2019, there are many works that are much more popular than these novels on the list.
Of course, this "Chinese Internet Literature Rankings" is not limited to this issue. It started in 2014, and there will be an issue every year thereafter.
Like in 2018, Squid's "Lord of Mysteries" and Zhiniao Village's "Big Doctor Lingran" were selected on this list.
In terms of influence, although this list is selected by the Chinese Writers Association, its authority among readers may still be compromised. After all, Wen Wu is the first and Wu Wu is the second. The good works in everyone's heart may be different.
Finally, how much do you know about these award-winning works? Which ones do you recommend? Let's talk about it.