As the domestic epidemic is gradually coming to an end and consumer outdoor activities increase, sportswear is ushering in a further rebound, and it remains one of the best tracks in the apparel industry.
According to Fashion Business Express, the domestic sportswear group Li Ning's share price rose 5.89% to HK$40.45 today, a record high, and its market value broke through the 100 billion mark to HK$100.6 billion for the first time. The share price of Anta, the largest domestic sportswear group, also rose 3.98% to HK$88.8, with a market value of more than HK$240 billion, also setting a new record since its listing.
An earlier research report of Tianfeng Securities pointed out that there is a significant gap between the domestic sports market and the mature markets in Europe and the United States, and the long-term increase in demand is broad. The leading institutions in the sports industry chain continue to grow their market share by virtue of brand, R&D, marketing and channel advantages. Increasingly significant. Guotai Junan also stated in the research report that with the arrival of the post-epidemic cycle, tourism and outdoor sports attractions in various regions will gradually open, and residents' demand for travel and outdoor sports will gradually be released.
It now appears that even though 2020 will be full of crises at the beginning of the year, this undifferentiated wide-ranging impact is more like a market process of squeezing a bubble, and has limited impact on the current competitive landscape of China's major local sports giants.
According to Euromonitor International's market size statistics, China's sports shoes and apparel market has risen to US$45.894 billion in 2019. During the same period, the US sports shoes and apparel market was US$126.962 billion, and the market size ratio reached 36.15%, a record high. Compared with the ratio of 27.44% in 2015, there is a significant increase, but the per capita expenditure on sports shoes and clothing is still significant. China's per capita expenditure on sports equipment is only 10% of the US market during the same period, and there is still much room for improvement.
In the first half of the fiscal year ended June 30, Li Ning's sales fell 1.2% to 6.181 billion yuan, exceeding previous expectations, net profit fell 14% to 683 million yuan, and cash flow reached 5.56 billion yuan. Anta Group in the first half revenue also dropped 1%, recorded 14.669 billion yuan, net profit fell 28.6% to 1.658 billion yuan, the nuclear core product brand Anta income fell 10%.
According to industry insiders, according to the current development trend, Li Ning's share in the sportswear industry is expected to further increase. Driven by the fashion business, the solid performance of Li Ning's performance improvement for two consecutive years is sufficient to convince the market that its hardest time has passed.
Different from Anta's multi-brand strategy, Li Ning chose to adhere to the core development direction of "single brand, multi-category, and multi-channel". In terms of operation, Li Ning chose product, channel, retail operation and supply chain management as the four starting points.
In terms of products, Li Ning emphasized "considering professional sports and trend innovation." Group remains focused on basketball, running, training, badminton and exercise are still the five core categories, and strengthen professional sports properties, intensify R & D investment in sport and performance optimization, positioning continuing professional sports brand Li Ning clear to the market rather than opt for fashion-oriented information.
At the same time, Li Ning hopes to actively display a creative brand image, accurately capture and refine trend elements. In August of this year, Li Ning and Danish brand Soulland released a joint series "Pre-Intra-Post" at Copenhagen Fashion Week. The products are two sports shoes " Zeying " and "Ranger", both of which use minimalist design and innovative, Almost transparent material.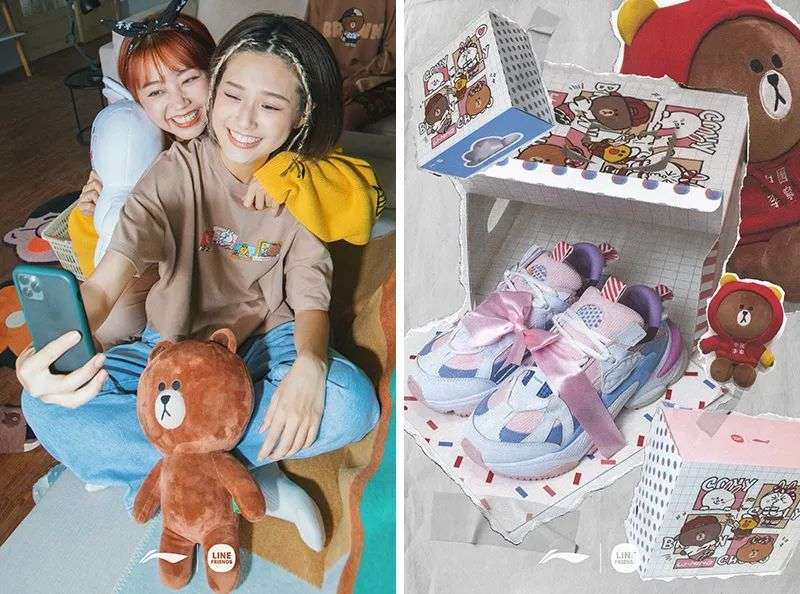 Driven by the fashion business, the solid performance of Li Ning's performance improvement for two consecutive years is enough to convince the market that its most difficult time has passed
In addition to attracting consumers' attention through "China Lining", fashion weeks, and collaboration with designers, Li Ning has also collaborated with beauty brand MAC to launch the LI-NING X MAC Dunhuang cultural limited gift box this year, and the trendy IP LINE FRIENDS A joint series was released to effectively expand the group of young consumers and further enhance product power and brand power.
In terms of channels, retail operations and supply chains, Li Ning's strategy core is the word "efficiency".
In terms of channels, Li Ning continued to promote the construction of high-efficiency stores and benchmark stores since last year. Based on the development of traditional commercial streets, department stores, and sports cities, it focused on new channel breakthroughs in shopping malls and outlet channels, and focused on shopping mall channels. Opened all-category benchmark stores and China Li Ning fashion store. At the same time, the company continued to accelerate the closure of loss-making stores and upgrade and transform inefficient stores.
As of June 30, the number of group sales points excluding Li Ning YOUNG was 5,973, a decrease of 252 from the end of the previous quarter, and Li Ning YOUNG sales points decreased by 16 to 1,010.
At the same time, Li Ning's e-commerce revenue and profitability further improved in 2019, and the proportion of e-commerce sales increased by 1.4% to 22.5%. After the outbreak, the proportion increased to 27%. The e-commerce platform continues to create an independent product "COUNTERFLOW-Retro" series, focusing on mid-to-high-priced sports life and Chinese cultural characteristic footwear. At present, the number of fans in Li Ning's official flagship store on Tmall has exceeded 19.42 million, surpassing Anta's 15.89 million.
Li Ning's advantages in e-commerce live broadcast are also becoming more obvious. The report shows that Li Ning's bold attempts in the field of live broadcast have achieved initial results. Among the sports brands that have entered the Tmall platform, the Li Ning brand's annual live broadcast duration, number of viewers, user interaction and other data are at the industry leading level. In its latest report, CITIC Securities pointed out that as a new force in sales channels and product announcements, live e-commerce brings new development opportunities to brands that should not be underestimated.
In terms of retail operations, Li Ning's specific measures include focusing on improving the efficiency of single-store product operation management, strengthening single-store product sales plan management, exploring high-efficiency large-store retail operation standards, etc., and continuing to cultivate terminal retail talents to enable flagship stores, benchmark stores, The operating efficiency of large stores such as general stores, such as store efficiency, floor efficiency, and personnel efficiency, has been continuously improved.
In terms of supply chain, Li Ning is making up for the shortcomings of its own supply chain capabilities. According to the report, Li Ning is establishing a business demand-oriented supply chain management system. On the one hand, it optimizes and matches supplier resources in the industry. On the other hand, it focuses on the construction of its own supply chain system, which is leased from Nanning City, Guangxi Province, China. The footwear production plant has been put into operation during the year, and is committed to gradually depositing the core capabilities of the industry into the Li Ning system.
In addition to the core brand Li-Ning brand, Li-Ning Group also produces, develops, promotes, distributes, and sells a number of other branded sports products operated by its own, licensed or joint ventures or joint ventures established with third parties of the Group, including DHS table tennis products, AIGLE outdoor sports products, Danskin dance and yoga fashion fitness products and Kason badminton products.
As the rescue mission after the return in 2014 has come to an end, the founder Li Ning handed part of the burden to the former Uniqlo China COO Takeshi Kosaka last year. The latter is currently the executive director and co-CEO of Li Ning, responsible for group operations. Li Ning himself Then continue to take their next step.
In July this year, Extraordinary China controlled by the Li Ning family and Luo Zhengjie, nephew of Baoshilong's major shareholder Luo Jiasheng, formed a consortium to purchase 66.6% of the issued share capital of Baoshilong from Luo Jiasheng at HK$0.043 per share. The acquirer will then make a comprehensive offer to other shareholders and intend to maintain its listing status after completion. After the transaction is completed, Viva China and Luo Zhengjie hold 80% and 20% of the shares of the consortium, respectively. The chairman and CEO of Viva China is Li Ning.
According to a report earlier by Fashion Business Express, the potential buyer of British footwear brand Clarks, a potential buyer of Hong Kong private equity firm Lion Rock Capital, is also Li Ning. The private equity fund is planning to negotiate a 50% stake in Clarks for between 100 million and 150 million pounds. Also participating in the bid is Alteri Investors, a company that specializes in financing troubled retailers. Discussions on the transaction will end next month. .
Li Ning's chief financial officer Zeng Huafeng disclosed for the first time at the interim results conference last August that the group had established a private equity fund in cooperation with Lion Capital, with an investment of approximately US$61 million, hoping to acquire relevant business brands in Europe through the fund. Li Ning himself said frankly that he is optimistic about the long-term development of the Chinese market and is confident that urbanization will continue to drive internal consumption and catch up with the domestic sports life demand.
To be sure, under a series of frequent actions such as corporate acquisitions and business expansion, Li Ning's ambitions have already jumped out of the field of sportswear. Behind the new blueprint is absolute control of the right to speak of market trends.